Keep up-to-date on what's happening at Habitat for Humanity of Camden County 
"Silence is Golden" Builder's Ball
Fun, fun evening of food, drink and dancing.   Join us next year.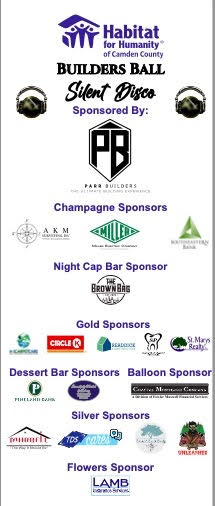 Build #34 Dedication Ceremony
HFHCC Board Members, volunteers and supporters came together to celebrate the dedication of Build #34.   Best wishes to our homeowner, Taylor Tyson, and her son, Tennessee.
On Tuesday, March 22, our Executive Board and volunteers were joined by Congressman Buddy Carter and members of his Savannah and Washington DC staffs to work at our Build #34 at 324 N. Lee Street. The team worked on plumbing, vinyl siding, painting, cabinet installation, and tackled the weeds in the yard. It was a great experience for all.
Address
141 City Smitty Drive
St. Marys, GA  31558